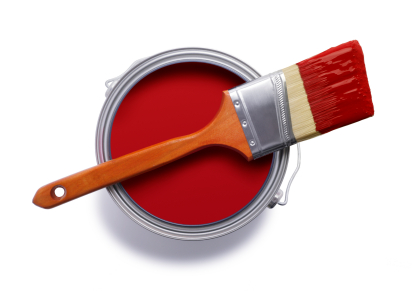 Many cornhole enthusiasts insist on painting cornhole boards themselves.  By tackling the painting project yourself, you are adding a whole other level of ownership to your boards.  In fact, we sell quite a few unpainted corn toss sets for that very reason.
However, the task isn't an easy one.  Often times, amateur painters get frustrated mid- project and the final results aren't what they envisioned.
We have several tips to make the custom design process easier and more attractive.  If you will be painting cornhole boards, consider the following dos and don'ts.
Painting Dos:
1. Be Realistic
Know what you can and can't do with a paint brush.  If this is one of your first painting projects, go with a less complex design.  Leave the intricate details for future cornhole boards.
2. Make a Plan
Cornhole boards are pretty big.  They might not look like it; but when you attack one with a fine-tipped paintbrush, you'll quickly realize Rome wasn't built in a day.
Spread your painting project out over a few days.  Plan what needs to be done first and what will get accomplished at each subsequent painting session.
3.  Set Goals
When faced with the big picture, it may seem like the project will never get done.  Instead, carve out little tasks that are more manageable.  For example, maybe you will paint the football on both boards the first day and the helmets the second day.  Or maybe you'll paint all the red areas first and then all the blue.
4. Use Your Time Wisely
Tackle the challenging aspects when you are feeling most ambitious.  Don't waste all your enthusiasm on simple tasks.  Save the easy jobs for later.
5. Take Breaks
Get up and move around every once in a while.  Go get a drink.  Stretch.  Don't sit in the same position too long or your body will rebel.
Painting Don'ts:

1. Do It All At Once
Don't try to complete the entire project in one sitting.  You'll get tired.  And probably bored.  You'll start to have wobbly lines, patchy color and uneven paint layers.  Work until you feel you've reached your daily limit and then walk away.  Come back another time.
2. Spend A Lot Of Time Getting Ready
Don't waste all your energy getting the project ready – printing visual resources, creating an accurate and detailed drawing on the boards, setting up the workstation, etc.  All these little tasks will drain your enthusiasm for the main event.  Once it comes time to start painting, you'll be burned out.
3. Use Inferior Materials
Painting cornhole boards take a lot of time and energy.  And hopefully, you'll be using the boards for a while.  They'll be out on display multiple times with multiple audiences.  Don't you want them to look as good as possible?  How do you expect to have amazing, custom boards if you gimp along with shoddy supplies?!
You know the expression, "You get what you pay for."  If you use cheap brushes and paints, your boards will look cheap too.  Invest in quality supplies.  You don't need a ton of stuff, but the upgrade will definitely be worth it.
Painting your own cornhole boards is a great way to add a custom look to your game set.  Plus, you'll have an even greater sense of pride when you strut out onto the court.  Grab a set of our unpainted corn toss boards and give it a try!